8 Caribbean Resorts with Romantic Overwater Bungalows
Check out our list of 8 caribbean resorts with romantic overwater bungalows before you decide on your next romantic vacation destination. When you close your eyes and imagine your next romantic vacation, do you picture clear blue water surrounded by gorgeous terrain and very few people?  Do you imagine relaxing with your sweetheart on the veranda of a private villa, perched over water, with dolphins swimming around your porch? Not surprising, overwater bungalows have become one of the most popular types of luxury romantic hotels! However, while so many people  want to experience a private luxury trip, they don't want to have to trek half across the globe to do it.  Well, fear no more, romantic overwater bungalows can be found closer to home than you think!
Located on a private island just across from mainland Belize is Thatch Caye.  If you want complete privacy, this is the place for you!  The resort only has 12 rooms total, so at most you will be sharing your vacation with 22 people. Each of the overwater bungalows are built on stilts, out over the ocean. With stunning 180 degree views of distant islands and clear blue water, they are truly a lover's paradise. The Bungalows have air conditioning although we think you'd probably prefer opening the windows and enjoying the cool air provided by the ocean!
2.  Amanyara Resort, Turks & Caicos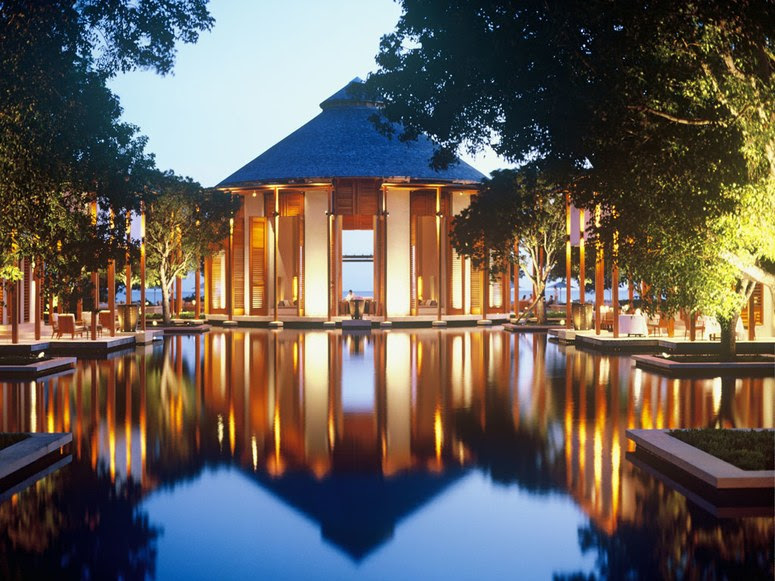 This resort is for serious luxury lovers only!  Butlers await to do your every bidding.  You'll enjoy amazing food and gorgeous villas perched over ponds, steps away from amazing Turks & Caicos beaches. Amanyara sits on a promontory on the western shore of Providenciales. Backed by a vast wilderness of protected parkland, the resort looks out over the pristine reefs of Northwest Point Marine National Park.
3. El Dorado Maroma, Riviera Maya, Mexico
This amazing place is just a simple 3-hour direct flight from nearby Cincinnati, Ohio!  If you want an all-inclusive luxury experience and high-style overwater bungalows surrounded by jaw-dropping turquoise waters, this is the place for you.  The sumptuous overwater bungalow suites are situated just off the silky white sands of the Maroma Beach, offering an idyllic blend of luxury, awe-inspiring ocean views, and a laid-back atmosphere. Imagine your romantic getaway enjoying the delights of fabulous accommodations, and surrounded by the picturesque sceneries of Riviera Maya!
4.  Sandals Royal Caribbean, Jamaica
Sandals has teased us for years with "overwater bungalows are coming to the Caribbean", and they have finally arrived! However, if you are dying to stay in one, you need to get on the wait list now because they are booked solid through 2017. Hovering above turquoise seas, these gorgeous Tahiti–style bungalows feature see-through glass floors, a Tranquility Soaking Tub, an over-the-water hammock for two, a private infinity pool and personalized butler service. Plus, you can enjoy private boat transfers to and from the resort – all included.
5.  Disney's Polynesian Resort, Lake Buena Vista, FL
Always leading the charge the House of Mouse has brought overwater bungalows to the good old USA.  You can combine your love of theme parks with your desire for romance and privacy.  That's called win-win. Given that Disney never does anything less than awesome, you're sure to find your piece of paradise on earth at this modern tropical paradise that is minutes from Magic Kingdom park via water taxi or monorail ride, and a bus ride away from nearby Disney theme parks.
6.  Rosewood Mayakoba, Playa del Carmen, Mexico
Surrounded by emerald jungle and pristine white beaches, Rosewood Mayakoba is a Riviera Maya resort that defines a private world of rare luxury and refined beauty. Perched over a lagoon the spacious overwater villas are the height of sophistication and luxury.  They are on a private part of the Mayakoba compound. They are equipped with every amenity you can imagine, including an inviting lounge terrace with a relaxing plunge pool, luxurious bathroom complete with outdoor garden shower, private walk-in closet and spectacular views of the lagoon and mangroves.
7.  Blue Diamond, Playa del Carmen, Mexico
Another resort that is just a few hours away by plane!  Blue Diamond is a special place, and one of my favorite resorts ever.  Their Overwater Palafitos are incredible.  They are 2 stories with your own roof top lounge area…how cool is that?
8.  Azul Paradise Resort, Panama
This is an eco-friendly resort which runs solely off water-catchement systems and solar power. Thatch roofs sweep the ocean front , and the suites harmonize with nature. So, it is perfect for anyone who wants to experience a tropical escape along a pristine white sand beach, where culture coexists with exotic adventures. If you want the romance of overwater bungalows and the luxury of privacy (only 10 bungalows in the whole resort) then Azul Paradise is for you. Each bungalow includes a private wooden deck, air conditioning, a private bathroom, a glass floor cutout, wooden floors throughout and snorkel gear to enjoy at your leisure.